<iframe src="https://www.google.com/calendar/embed?showTitle=0&showTabs=0&showCalendars=0&showTz=0&mode=AGENDA&futureevents=true;height=600&wkst=1&bgcolor=%23FFFFFF&src=ccfrotary%40gmail.com&color=%23060D00&ctz=America%2FNew_York" style=" border-width:0 " width="400" height="600" frameborder="0" scrolling="no"></iframe>
Thank You to our Twisted Vintner Sponsors: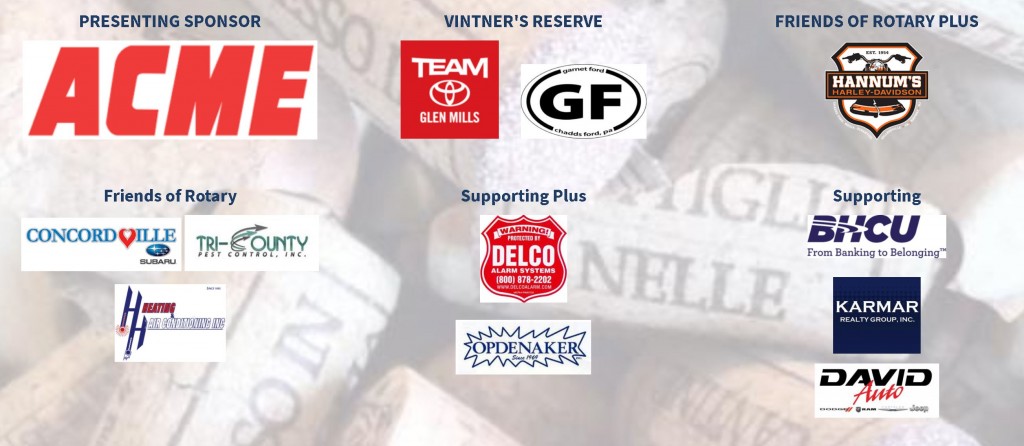 We also support other local organizations such as:
CASA, Rachel Kohl Library, Darlington Arts Center & More!
We are a vibrant group of
local men and women of all ages
volunteering together under the motto
"Service Above Self" –
and we have FUN doing it!!!
Rotary Club of
Concordville-
Chadds Ford
Local Impact, International Reach.
P. O. Box 183
Concordville, PA 19331-0183
Established November 5, 1952
Our Club meets every Wednesday – the second Wed. of the month we have an evening Happy Hour – check the calendar for the location.  All other Wednesdays we meet at 12:15 PM for a Luncheon Meeting at Pescatores Italian Restaurant
1810 Wilmington Pike
Glen Mills, PA 19342
Lunch and meeting – $15
Meeting only (includes tea, coffee, and dessert) – $8